BaseCamp North Cape King Crab Safari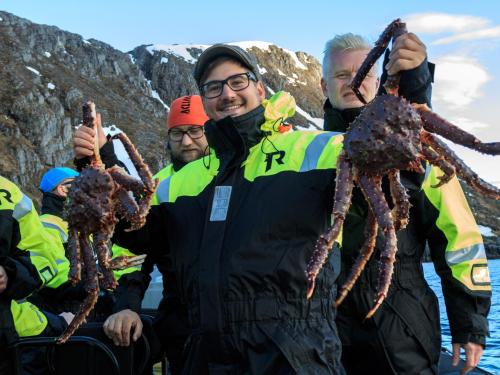 Experience our Deep-sea rafting, Photo and King Crab safari, all in one, in our RIB-boat, visiting historical and geographical highlights in an unique environment, close up to North Cape. Fantastic experience and fantastic photos.
See the North Cape, visit Hornvika and other historical places before we go to our King Crab pot, and there you will see and hear the story about this foreigner, sceary, but still delicious creature from the fare east. All told by a local guide. And what photos!!

Duration:
1,5 hours.

Price:
Adult: NOK 950
Children: 6 -12 year NOK 650
Included:
Safety equipment.
Presentation and storytelling by local guide; history, culture, wildlife and sights as you go along.

Meeting place:
Tourist information in Honningsvåg if you choose optional transport in your booking.
Your transport is marked "North Cape Safari".
Without transport the meeting place is:
BaseCamp NorthCape.
Storvannsveien 2, 9763 Skarsvåg.
The safari tour starts from the harbour in Skarsvåg.

Book here
Experience Kirkeporten with local Guide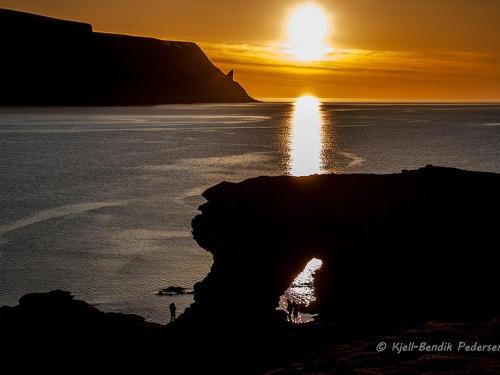 Join us on a walk with local guide to Kirkeporten, one of the small miracles along the coast of Northern Norway. This natural arch provides a very special view of the North Cape.
Kirkeporten is a natural rock formation shaped like an arch. Through it, you can look over the Mefjorden to the North Cape, with its renowned North Cape Horn. In pre-Christian times, Kirkeporten and the North Cape Horn were both traditional Sami places of sacrifice. A perfect place to enjoy a quiet moment here at the world's end.
Starting from BaseCamp North Cape we walk over the ridge of the hill to the Mefjorden. The terrain is a little rugged at the start of the descent to the Mefjorden, but not so bad that most people can't manage it. At the midway point, you will already be able to see the North Cape, and as you get closer to the sea, the arch will suddenly come into view behind you. Once you've done the walk, you will want to take a photo of Kirkeporten looking from the south to the north and walk through the arch itself. We start from and end our walk in our tent, Gammen.
The walk will be done and dusted in a 1.5 hour, and that includes plenty of time to take photos.
Price:
Adult: 350NOK
Children 200 NOK