Places for Tents, Campers and Caravans in beautyful surrondings. In our servicebuilding you`ll find showers/ toilets and guestkitchen.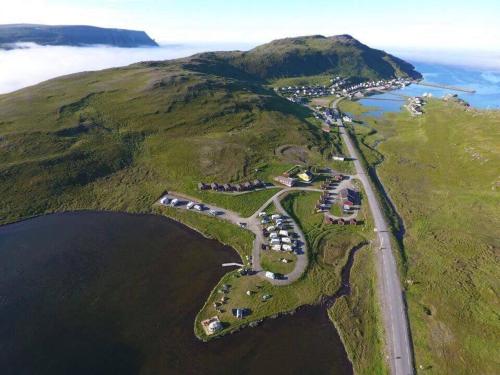 BaseCamp NorthCape, former Kirkeporten Camping, offers several tent pitches, which are well situated at the lake Storvannet, and 40 mobile homes / caravan pitches (30 with electricity outlets). There are also facilities for emptying chemical toilet for motorhomes and caravans.
In our service building there are showers and toilet facilities, laundry, as well as a separate cafeteria serving local dishes made from local fish and meat. The cafeteria has beer and wine reservations.
If you want to cook the food yourself, there are obviously good opportunities for it.
We welcome you to a pleasant stay at the BaseCamp NorthCape...
PRICES CAMPING 2019
(incl. wi-fi, emptying septic and refilling drinking water)
- CAMPER/CARAVAN with electric 300NOK/night (incl.1pers.)
- CAMPER/CARAVAN without electric 240NOK/night (incl.1pers.)
- TENT 190 NOK/ night
- ADDITIONAL PERSON 55NOK/night
- CHILD (4-12) 25 NOK/night
- ELECTRICITY 60 NOK/night
- SEPTIC SERVICE for non-camping guests 100NOK/car
Campground is open from end of May until end of September
What to do in the area of BaseCamp NorthCape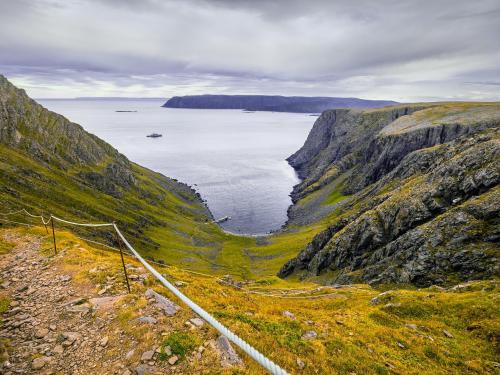 Hornvika
Tourism to the North Cape has a long history. The arrival was by boat to Hornvika on the eastern side of the cliff. Thence climbed tourists about 300 meters up the steep mountainside to get into the flat mountain. In Norkapphallen find mount describing the arrival of the first tourists.
Try out the old way to explore North Cape...
Book here
Kirkeporten is one of the small miracles along the coast of Northern Norway. This natural arch provides a very special view of the North Cape.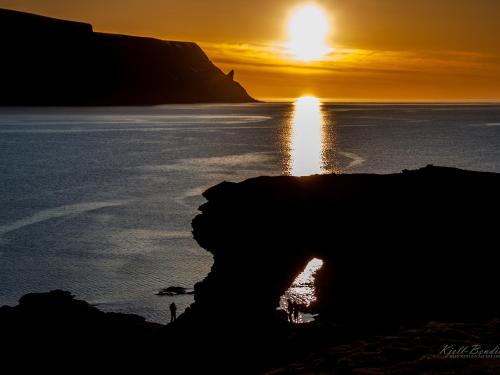 Kirkeporten
Kirkeporten is a natural rock formation shaped like an arch. Through it, you can look over the Mefjord to the North Cape, with its renowned North Cape Horn. In pre-Christian times, Kirkeporten and the North Cape Horn were both traditional Sami places of sacrifice. Starting from our camp, there is a well-marked trail over the ridge of the hill to the Mefjord. The terrain is a little rugged at the start of the descent to the Mefjord, but not so bad that most people can't manage it. The whole walk can be done and dusted in an hour, and that includes plenty of time to take photos.
Visit Skarsvåg, the world´s northernmost fishing village